Bernard Moitessier's Last Sailboat Tamata
The Death of Bernard Moitessier's Joshua

On the evening of Wednesday, December 8th, a determined couple stood on the shores of Cabo San Lucas, peering with hopeful eyes at the bleak and darkening horizon. They would once again miss the famed Pacific sunset that drew so many to these sandy shores of the Pacific. Even if the gradually rising surf hadn't blocked the view, the lowering cloud deck would've kept the Pacific's golden pearl hidden from its pilgrims. But the grim veil that was thickening over the bay promised there was much more in store for Cabo San Lucas that night.
Only a few hours earlier, the dozens of charming sailboats anchored out in the bay added a quaint and romantic quality to the otherwise rustic Baja getaway. This was before the resorts and the developers came in, before the throngs of tourists trampled in well-worn pleasure paths across the enchanted reefs. But most importantly, it was before modern hurricane forecasting.
As the couple stood there, surveying the see-sawing boats before them, they noticed just how far some of them had drifted towards the shore. Suddenly the anchor line on the nearest yacht snapped clean in two, whipping freely in the gale. The surf roared in a frenzy under the injured boat, carrying it on frothy hands towards the beach. That unfortunate vessel was the first victim that night. And that dangerous swell would claim all the sailboats in that harbor, even one of the most sea-worthy yachts in the world.
That was Joshua, the steel-hulled patron saint of Bernard Moitessier.
And then there was Moitessier.
I am continuing non-stop towards the Pacific Islands because I am happy at sea, and perhaps also to save my soul.
- Bernard Moitessier, The Long Way
Once there, he promoted videos of his 1968 Golden Globe adventures and made a brief living as a gardener, but none of those really generated enough to sustain his family in the rapidly developing San Francisco Bay. With the lean cows closing in once more, he found a quite natural way to generate income.
And what better way to learn how to sail then to weigh anchor and voyage from San Francisco to Cabo San Lucas?
The Wingless Gull
They were working on a side project when word reached them that their good friend Moitessier lost his boat. They immediately dropped what they were doing and phoned Moitessier, and informed him that they would be designing and building his next boat. Free of charge.
Just like with Joshua, it didn't take long for the conversation about the new boat's dimensions to turn heated.
But that's only the case up to Joshua. Joshua was designed specifically for sailing the Great Capes, and she succeeded in those watery arenas beautifully. But a sailboat designed to weather the Southern Ocean won't look the same as a sailboat designed for, say, coastal sailing for a young family of weekend cruisers. A vessel designed to round Cape Horn and plow through hurricanes will perform (and look) significantly different than a vessel designed to sail between the Polynesian Islands in the gentle trade winds.
Moitessier wanted something designed specifically for him: a 57-year-old man who wanted to settle down to write a book, and who wanted to maintain a high level of self-sufficiency. And a heavy, ultimate seaworthy sailboat would simply be too much to meet those particular needs.
The rear end of the boat takes a modern departure fromJoshua's. Joshua was a double-ender, with a Norwegian or a canoe-style stern. "I prefer a pointed Norwegian stern," he wrote of Joshua, "because it can very effectively divide, direct, and ease a breaking sea's violent push when running." But he later admitted its shortcomings. The Norwegian stern makes the cabin less roomy than with a transom, he writes. "I once thought a transom dangerous when running in high seas, but hundreds of sailboats have proven that it is as good as a Norwegian stern in the high latitudes. And of course a transom means more room on deck and inside."
But there were some similarities. Bernard chose steel because he considered it (at the time) the superior material. He later went on to say that if he had to do it over again, "...she might well be made of aluminum, because after some early experiments, I think marine aluminum alloys have proven their worth."
Well, simple he got.
It wasn't just the Huttons and Moitessier throwing down to make this happen. The yacht was built in record time at the Sanford-Wood boatyard, partly because of the cohesion of the San Francisco sailing community, but also because of another connection to Moitessier's past maritime ventures3.
The Sun Finally Sets
"He was like the Pied Piper. He'd wander over to the little park and there'd be ten or fifteen kids following in his footsteps, laughing and joking. And Bernard would make up these little games and tell them stories. After school there'd be twenty more kids all over his boat, just everywhere."
- Lin Pardy, As Long As It's Fun
He eventually returned to Paris in 1986 with Véronique to finish his book. While he was gone, Tamata was moored in the Iti Marina on Raiatea. He and Véronique returned multiple times to do some sailing, but the days of braving the Southern Ocean and rounding the Great Capes were over. Now, he just settled with the gentle breezes and protected coves of Polynesia. And even that didn't last long.
http://www.voilesetvoiliers.com/popup/media_id=35773/
http://a137.idata.over-blog.com/0/59/01/33/Tamata.jpg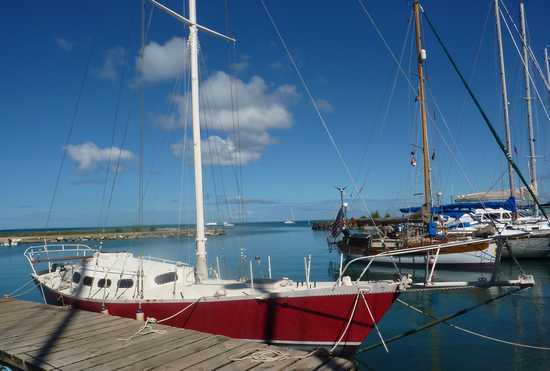 http://www.sextan.com/wp-content/uploads/2011/12/p1090647.jpg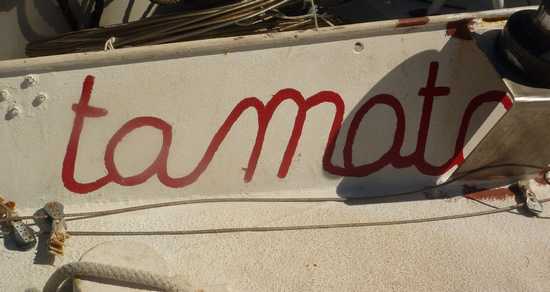 http://www.sextan.com/wp-content/uploads/2011/12/p1090649.jpg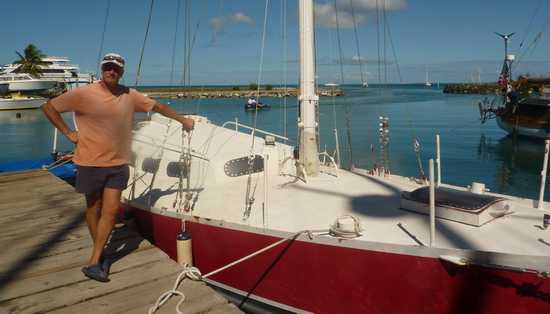 http://www.sextan.com/wp-content/uploads/2011/12/p1090651.jpg
http://s121758490.onlinehome.fr/edl/mails/images/im34.jpg
http://blog.mailasail.com/etoiledelune/554/image/jpgIzMFIZmjCm.jpg
http://antoine.tv/media-images/NEWS_227_BLOC1_1.jpg
Bernard passed away, but what remains of his legacy? Where are his boats, and the people who designed them? His vessels are easy to track down. Joshua is at a maritime museum in La Rochelle, France, and Tamata is still in Raiatea, French Polynesia. The people, however, are a little more difficult to find.
Rick Wood and Alfred Sanford eventually split up in 1996, when KKMI purchased the boatyard. Alfred Sanford went to the East Coast and continued the business in Nantucket with the Sanford Boat Company, where he is presently making
some damn fine yachts
. Rick Wood ended up working for the famous Spaulding Wooden Boat Center in Sausalito, CA (where Moitessier had berthed Joshua when he was in the San Francisco Bay), as interim boatyard manager. Sadly, on March 27, 2013, Rick Wood's body
was found drowned near his houseboat
in Richmond.
According to
this forum post here
, John Hutton at some point owned a boatyard called Tern Marine. He had just finished building a forty-eight-foot steel cutter, but was expecting a divorce and for Ned to take the boat. Apparently that went through, and John Hutton ended up on the beach in Lahaina, HI. Whoever posted the blog post saw that same forty-eight-foot cutter for sale about a decade later in 1997, and was offered a price of $10,000 in cash. Ned Hutton still owned it but was trying to get rid of it.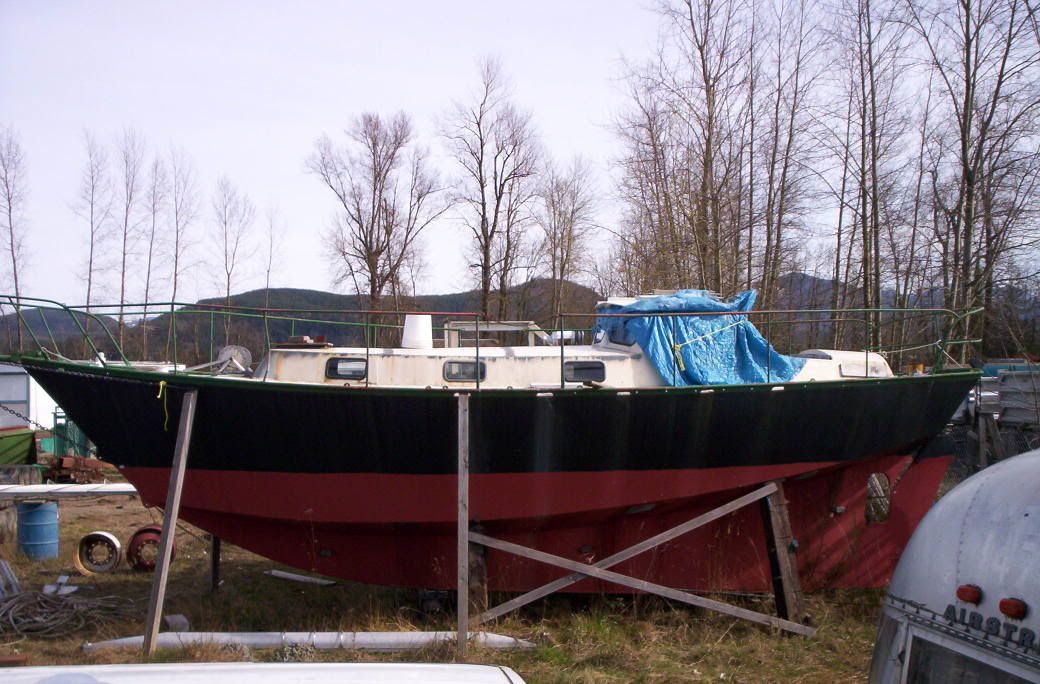 http://i76.photobucket.com/albums/j31/Berzerker77/Picture037.jpg
And that's where the trail grows cold.
Perhaps each of Moitessier's yachts faced the only natural retirement fitting for them, representative of each phase of his life and their signifance on his story. Joshua, the steel albatross that launched him into the world's spotlight, is under care by the La Rochelle Maritime Museum. Tamata, the little metal tern that gently carried him on, remains with his last companion in the only place he truly felt at home. This is what Véronique says in her
out-of-print book about Moitessier
:
Moitessier planted seeds in the minds of many, especially at a time when people took the time to live slowly, it seems; earth as he planted small seeds. On the island of Tahaa, he patiently planted grass by grass, mud, between the trunks of coconut trees and holes Tupas, an entire lawn. Four years after his death, Nagual is ironed by and on rotten ground I thought unrecoverable, I saw a fresh green grass. I thought of him: 'He planted a lawn as a spiritual grave.'' The action that has me the most, it is not the passage of Cape Horn but the planting this grass stem by stem the twilight of life."
- Véronique Lerebours, Crossing the Worlds
If Véronique is anything like Moitessier, then perhaps a lucky couple will gain a symbolic part of history, in exchange for a single twenty dollar bill. It seems that would be the only suitable conclusion for Moitessier's Tamata.